A low open rate is one of the biggest challenges facing email marketers. In every email campaign you send, there will be some email messages that aren't opened. Why are these emails not opened? Well, subscribers may not like the subject line or you may be sending emails too often or not at the right time.
SendPulse is fully aware of this problem; that's why our platform is based on an artificial intelligence system. It maximizes the email open rate automatically and provides features that could be used by companies to get a better response on their newsletters.
One of these features is resending messages using web-push notifications. In this guide we'll show you how to set them up for your email campaigns.
Start by clicking the button "Create a campaign" in the menu on the left of the service.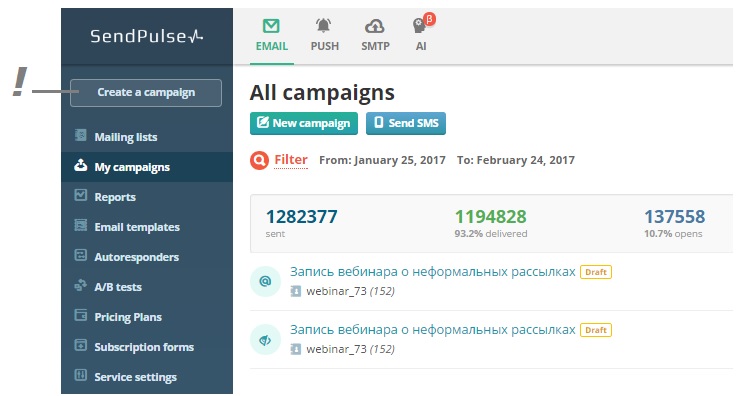 Then you should follow three stages to create the email:

On the first step, "Information about campaign," you need to specify all the details about your email. Choose the proper email list of recipients and fill in these fields: "from: email address," "sender's name," and "subject line."

On the second step, "Template and message text," you need to create a template. Upload your own email template or choose one from the free email template gallery. Add your own text and images with the help of the drag and drop editor.

"Review and sending" is the last step. This is where you can choose to resend messages using web-push notifications.
Find the section "Follow up to unopened messages" and mark the option "Resend Message with SendPulse AI using Web Push or Email." Don't forget to set the date and time.

This feature is supported by our artificial intelligence system. How does this technology work?
It allows the system to gather information about subscribers, such as the usual time of opening emails, user communication preferences, time zone, previous product purchases, and others.
Based on this data, the system determines the best channel to contact each subscriber. It can be by email or web-push notification. All you need to do is set the right time and date in the field "Send message on," or the system will send it immediately.
If you only want to resend by email, then select the option "Resend message by email only."
To learn more, read our detailed guide.